Jan Bruijn (1951) studied industrial design at the, now called, Design Academy in Eindhoven, the Netherlands. During and after his study he worked for the automotive industry for fifteen years as management consultant in long term brand marketing. In 1989 he decided to sell his shares of his consultancy company and concentrated on his passion, old cars.
In 1993 he initiated Automuseum Deventer with a selection of about 30 cars on exhibition as well as several cars for sale. This initiative was followed in 1999 by creating the Concours d'elegance Paleis het Loo in Apeldoorn which was an instant success, the first edition had works back up entries with a Mercedes 'Silberpfeil', Auto Union and Alfa Romeo 159 Grand Prix cars.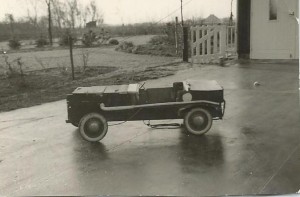 The imagination of a 9 year old boy. Jan's first 4,5 ltr. Bentley.
After three editions the Concours Event was sold. And in 2003 the museum moved to its new location in the northern part of Holland in the former Douwe Egberts factory. No longer a museum but a gallery instead with a vast library of automotive books and magazines. Visits by appointment only.
Jan considers cars of the fifties and sixties as quite modern, and while there is nothing wrong with modern cars he concentrates himself on the older ones, personal favourites are pre 1905 cars, eligible for the annual London to Brighton Run.

Jan Bruijn at the wheel of the 1916 ex-Addison Brown, ex-Paul Freehill, ex-Colin Crabb Stutz Bearcat.
Research and chasing cars all over the world resulting in smashing barnfinds is his main occupation and it is surprising to note how many important cars are now to be found in major important private collections and museums all over the world.
So, if interested in a rare pre-war car why not contact him and discuss the possibilities.
Jan Bruijn
Style & Auto
Slachtedijk 24 A
8501 ZA Joure
The Netherlands
T +31 (0) 6 53 32 11 27
M info@style-e-auto.com