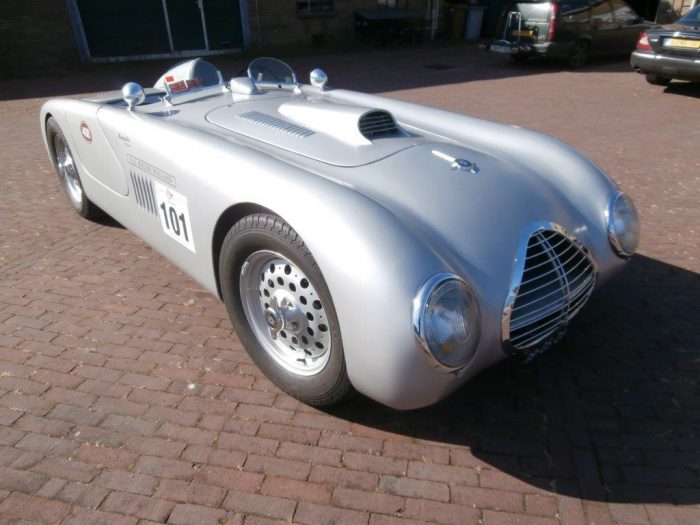 In the years after the end of WWII life for Germans in Germany wasn't easy, food and energy were restricted, petrol rationed, all in all fun wasn't to be, and certainly no motorracing, even development of new racing cars wasn't allowed over 1 litre engines.
But there are, and always will be, petrolheads, come rain or shine. Ernst Loof was one of them, former head of the prewar BMW motor racing department, amongst others responsible for the 1939 Mille Miglia win of BMW with the streamlined coupe by Touring based on the immortal type 328.
Loof thought if I am not allowed to develop new racing cars, I certainly can make new cars from used, pre-war machinery, nobody will complain. And so he did, buying all used type 315,319 and 328 (all based on the similar chassis) he could find. Engines, gearboxes, axles all from the 3 series.
And with all those parts he did little miracles, restoring, tuning, improving and last but not least building the most beautiful all enveloping windcheating bodies made of destroyed planes from the war, using his pre-war experience to the full extend.
As a result he created very fast and competetive racing material, both in 1,5 and 2 litre form.Boosting the original 328 engines from a stock 85 hp to well over 135 hp. And being short of sportive material at hand in occupied Germany, those cars were in demand.
Ernst Loof build around 35 of those first series cars between 1947 and 1950 before he turned to create full new cars when the ban was lifted in 1951.
All examples of those first series were build together from various cars, most of them non-matching, and only a handful registered for road use. Some retaining their pre-war identity, others given a new identity and a few no official identity at all.
Clients could order a BMW-Veritas by bringing a mechanical complete BMW 315,319 or 328 and 12.000 German Marks.
Unfortunately documentation by its makers was poor too, since lesser documentation in the early post-war area seemed a better and more logical choice. The lesser known, the better it is.
Chassis number 48904
Our particular car was produced by BMW in 1935 and started life as a type 315 roadster, the first documentation dates from 30-12-1953, when the car received a new Dutch registration, PP-05-26 under the changing gouvernemetal law from a regional to national system. The registration given is still valid. Owned in September 1956 by Mr. C. Lagerwij.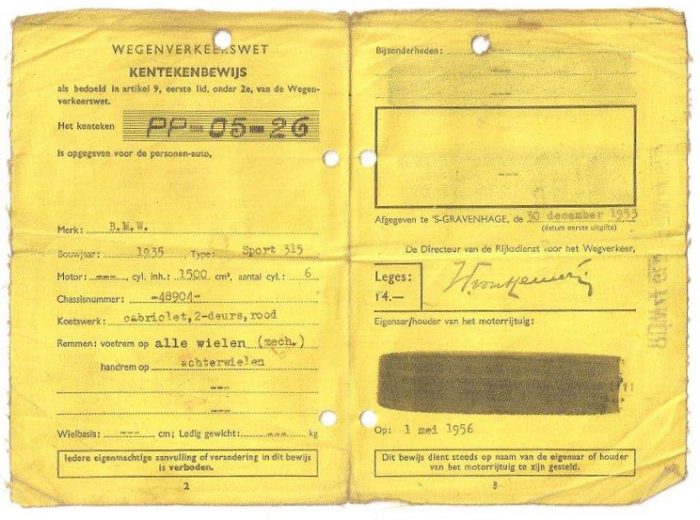 Registration issued December 1953
From the period before 1953 no details are known, werther the car was sold new in 1935 in the Netherlands, or a later import?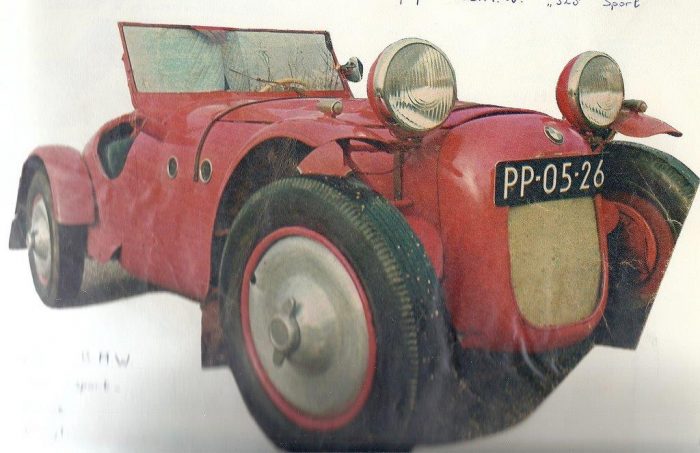 Oldest picture of 48904, wrongly described as type 328
The oldest picture of chassis 48904 dates from the late fifties or early sixties showing a local build roadster.with tuned mecanics using a 2 litre BMW engine, when owned by Mr. van Dijk at Amsterdam since 1964. The car remained in his possesion till 2006, a period of more than 40 years of ownership, when finally bought by Andries Jans from Apeldoorn, a well known and well respected BMW and Veritas collector and restorer.
Jans restored the car to its former glory, using only original BMW parts. The body was taken off and is now gracing another type 315 in Germany. The 2 litre engine has been tested and delivers a healthy 138 hp with more under the bonnet.

48904 exhibited in Hamburg, Protoyp Museum
PP-05-26 was selected in 2015 as exhibit, and only Veritas, for the special exhibition 'Gemeinsam Gegeneinander'at the Prototyp Museum, Hamburg, Germany. An exhibition showing the development, design and production of racing cars in an occupied post-war Germany, East and West.
The car has presently a Volvo gearbox fitted for easier driving, but it comes with its original 315 gearbox.